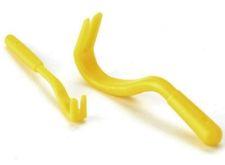 Tick removal tool (Pack of two sizes)
This is a pack of our popular tick removal tools. Inside you will find two different sizes of tool along with an easy to use instruction pack.
 Instructions for use:
- Choose the most suitable hook according to the size of the tick.
- Engage the hook by approaching the tick from the side of its body.
- Lift the hook very lightly and turn it. The tick detaches by itself after 2 or 3 rotations.