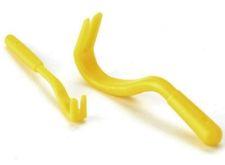 Tick removal tool (Pack of two sizes)
This is a pack of our popular tick removal tools. Inside you will find two different sizes of tool.
 Instructions for use:
- Choose the most suitable hook according to the size of the tick.
- Engage the hook by approaching the tick from the side of its body.
- Lift the hook very lightly and turn it. The tick detaches by itself after 2 or 3 rotations.
Please note: If you purchase either our Pretty Fly Spray or our Cat-eze Flea Spray of any size you will receive this item free. Just select either of the sprays and we will pop one in for you at no charge, don't add this item to the basket as it will charge.